the First-time Setup Wizard will pop up after the installation is completed.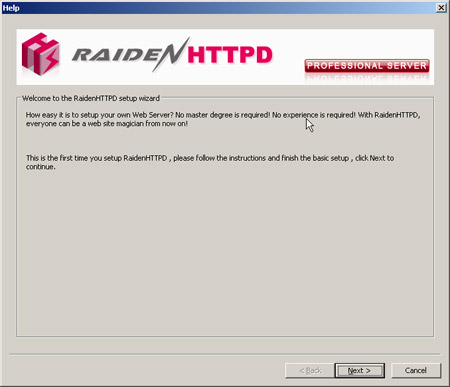 Click next to continue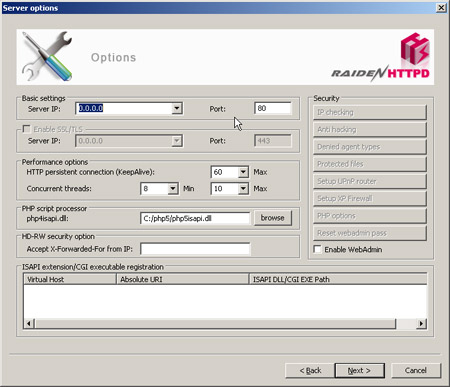 If your server IP is set to 0.0.0.0 , it will bind to all local IPs. Please make sure to enable SSL/TLS (If You have the license key). If you install the php engine by the RaidenHTTPD installer, then the php4isapi.dll (or PHP5) has already been configured. Otherwise, you need to specify its location by clicking the browse button.
Now, click Next and you will be asked to destinize your web root directory by specifying a clean directory for your web documents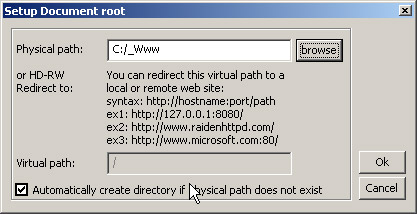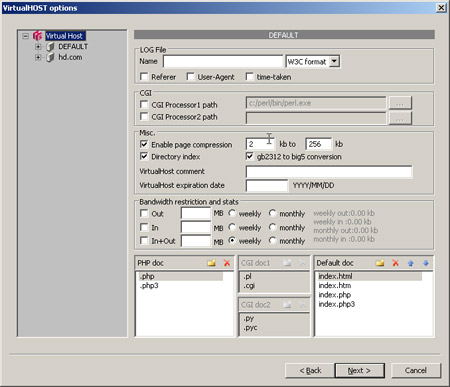 Now you are in the virtual host and virtual directory setup dialog. There is nothing much to change here, but, for security reason, it is recommended that you disable 'directory index'. However, if you setup IP-checking properly, then it's ok to enable it.
At last, click Next to install service and start service. Now, you are all set as the RaidenHTTPD tray icon appear at lower-righthand corner of your windows desktop.

Note that You can turn off apache 1.x 2.x and IIS services here, but it does not uninstall them for You, You will need to uninstall them if You decide to use RaidenHTTPD to replace them.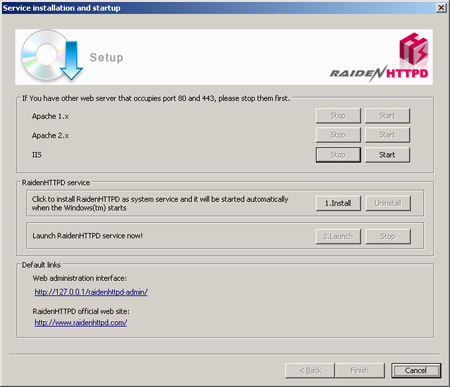 If your service does not start successfully, it is probaby that there may be some service occupying your port 80. You may change the port for RaidenHTTPD to another one since we will primarily use SSL in the later tutorial.
By double clicking the RaidenAdmin icon on the tray, You can launch the RaidenHTTPD welcome center.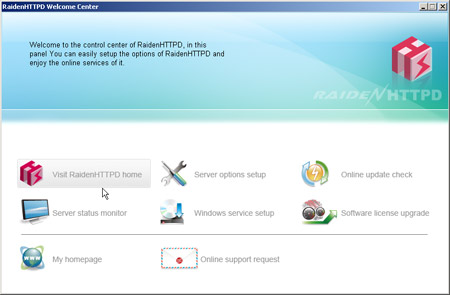 Right mouse click on the RaidenAdmin icon, You can open the RaidenAdmin popup menu.